Rent our Vanessa, a Mercedes Sprinter RV Sportsmobile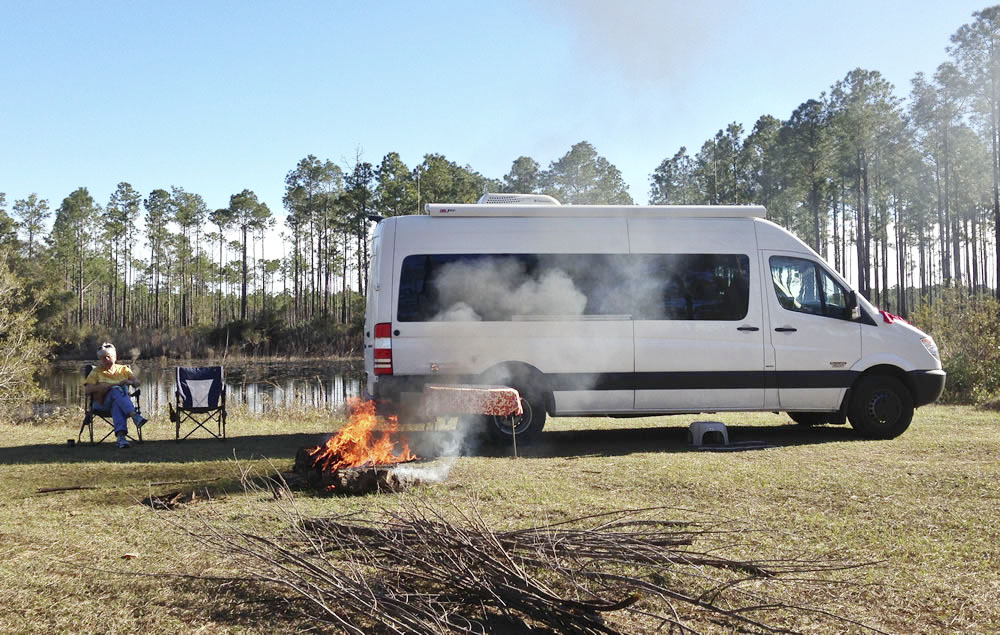 We have listed Vanessa on RVShare. She is located in Annapolis, Maryland. You can contact us through RVshare.
Vanessa is a well-equipped RV with full bath and kitchen and gets 18 mpg. Like most Class-Bs, Vanessa drives and parks like a car. Unlike most Class-Bs, however, Vanessa has a huge 70x82 bed, 6 seatbelts, a 40-gal freshwater tank, 400AH of battery power, a screen door, 6' 3" of headroom, and a diesel furnace and generator that draw from the van fuel tank. Vanessa is great for boondocking for a week, and for one overnight stay there is no major need to hook up at a campground.
Other great features include a huge storage cabinet in back, 4G cell antenna with booster, unlimited Wi-Fi hotspot, 7 cu ft fridge/freezer, plumbing freeze protection, lots of counter space, quick conversion from dinette to bed, convenient TV/radio, and we provide dishes, pots, bottom sheet, and more. Vanessa has a 2 inch receiver hitch that will take a bike rack.
Want to bring along your whole family? With 6 seatbelts you can do this safely and and there is plenty of room to carry tents, sleeping bags, and air mattresses in the back. And lots of room to pack food and beverages.
Driving Vanessa and setting up camp are pretty similar to other RVs with a few exceptions including the diesel furnace and changing from dinette to queen bed. When you come to pick up Vanessa, we will go over everything in detail and answer questions. If you want to be prepared, watch the videos and read the detailed operating instructions PDF files below.
Important rental information
You can park your car on our property while renting Vanessa.
Vanessa operating instructions (printout to be provided). This covers all appliances and systems.
List of items provided and what you need to pack.
USA Today advice for your first time rental
Details of Vanessa provided by former owner
DavidElmore.com/Sportsmobile (separate website)
How-to videos
Battery power for fridge, lights, TV, stereo, mobile devices
Generator for microwave, A/C, electric heater, charge batteries
Fill the 30gal fresh water tank
Dump the black then gray holding tanks
Lock doors while inside to disable security motion sensor
Setup the dinette and super-size bed
Leveling blocks and leveling indicators
Propane switch, water heater, stovetop
TV, stereo, DVDs, and stream video
Hotspot Wi-Fi, engine battery, front stereo power
Details for major appliances
Sprinter brief operating instructions
Battery monitor operating instructions
Furnace operating instructions
Vent fan operating instructions
Generator operating instructions
Audio visual electronics
Kenwood radio operating instructions
Jensen radio operating instructions
TV antenna operating instructions
TV signal amp operating instructions
Home
| Copyright ©2023 David Elmore | This page was modified 29-May-2023